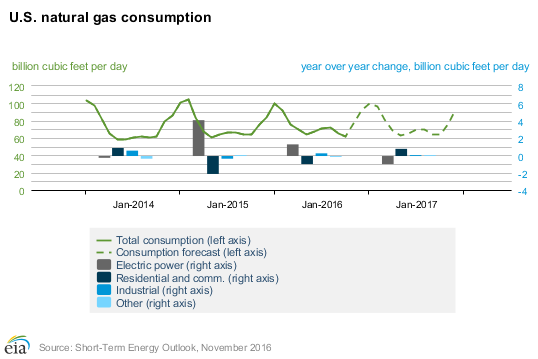 Much of the United States experienced a warmer-than-normal autumn this year. But even when temperatures are balmy, demand for fuel increases in winter. Here's a look at what natural gas price and supply trends may look like over the next few months.
The National Oceanic and Atmospheric Administration (NOAA) predicts the 2016–2017 winter will be about 13 percent colder than last year, but slightly warmer than the 10-year average. This means we'll likely pay more for heating fuel this winter than we did last season, but warmer temperatures will likely cause us to use less fuel over time as average temperatures continue to rise.
What to Expect for Your Winter Heating Bill
The US Energy Information Administration (EIA) predicts winter heating costs will increase this year across the United States. But costs will still remain below those of recent winters, including the winter of 2013–2014, the five-year high. The EIA's data forecasts a modest increase in natural gas heating costs and more significant increases in heating oil and propane costs. Electric heating costs will hold relatively steady.
Natural Gas Supply Likely to Increase in 2017
According to the EIA, natural gas production dipped between 2015 and 2016, the first annual decline since 2005. But the agency predicts production won't be down for long. Its forecast calls for an increase in natural gas production for 2017 from 77.51 billion cubic feet per day to 81.19 cubic feet per day.
Though an increase in supply usually corresponds to lower prices, the increase in natural gas production will not lead to lower natural gas prices in 2017. All forecasts predict an increase in the cost for natural gas for residential, commercial, or industrial consumption.
What does all of this mean for your utility bill? This winter is likely to be colder than last year's, which means you'll likely be paying more for heating fuel. But that doesn't mean your utility bill needs to skyrocket.
Schedule your no-cost audit of your company's utility bill to find hidden savings that could offset higher heating costs. Contact SM Engineering to get started.